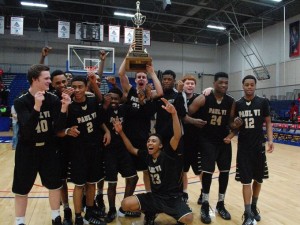 The Paul VI and DeMatha rivalry got its latest result in the Washington Catholic Athletic Conference on February 25 when Paul VI claimed a huge 56-37 victory.
Earlier this year, the teams met twice, each coming out with one win a piece.  The Panthers took the first game by a seven-point margin at 55-48.  Eight days later, DeMatha squeezed at a 54-52 win.
Going into the game, the two appeared to be evenly matched.  Paul VI, ranked 11th in the DigitalSports National Basketball Rankings, was the top team in Virginia.  Ranking 9th on the national scale, DeMatha placed 1st in its state, Maryland.
Despite the seemingly even match up, Paul VI wasted no time in taking a big lead and never letting go.  After closing the second quarter off with a 10-4 run, the Panthers entered halftime leading 26-19.  Through tight defense, gritty rebounding, and intense hustling, Paul VI pressured DeMatha and took away any opportunities for second-chance points.
The second half was not much better for the Stags.  At one point, DeMatha went six minutes without a field goal.  All the while, Paul VI continued to score, ultimately breaking away to a 19-lead to win the game.
Joshua Reaves, a junior guard who has played exceptionally all season, led Paul VI on both sides of the ball with 19 points and incredible defense.  Evan Taylor added on 12 more points for the Panthers.
Now crowned champions of the WCAC, Paul VI moves on to the Virginia Independent Schools Athletic Association Playoffs to make a run at the Virginia state championship.
Player of the Game:
Joshua Reaves- 19 points